PDFsam Basic is the most popular offline PDF merger. No need to upload or share your PDF documents, keep them safe on your computer, away from prying eyes and easily merge them with PDFsam Basic. Completely free and open source, without time limits, without watermarks, simply free.
How to merge PDF files without Acrobat
Download and install PDFsam Basic
Start PDFsam Basic
Drag and drop or select the PDF files you want to merge
Drag and drop the rows to rearrange the PDF files order
Select the output file and click Run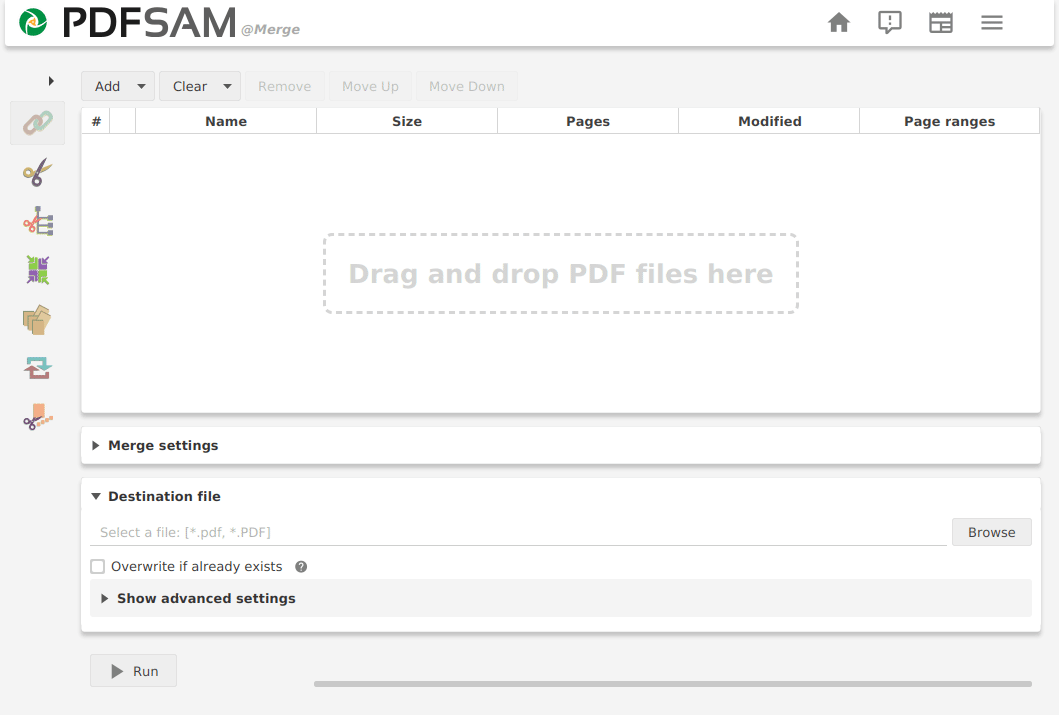 Anything else?
We just described the easiest way to merge PDF files. PDFsam Basic also offers various settings for more advanced users. Do you want to combine AcroForms? Do you want to create a bookmark tree to better navigate the generated file? Do you want to select only a few pages to merge? PDFsam Basic can do it and much more.
Is it really free?
Yes, free and open source, no time limits, no watermarks, just free.
Can I merge PDF files with PDFsam Visual?
Yes, PDFsam Visual is a premium solution and offers many features like Crop, Encrypt, Delete Pages at a very affordable price (one time purchase, no subscription). The combine PDF files feature is part of the free tier, no time limits, no watermarks, just free in PDFsam Visual too.
Why not an online tool?
There are many online freemium solutions. These tools require you to upload your PDF files to their servers and this causes two reasons for concern:
Security: Even tech leading giants like Facebook or Yahoo had security breaches.
Privacy: Once your PDF files have been uploaded, they are basically plain data that can be read and mined by the online service you have chosen. If you are dealing with anything more then the grocery list, make sure you choose a trustworthy online service.
How to combine PDF files in Adobe Acrobat Reader
This is not yet possible with Adobe Acrobat Reader. The merging of PDF files is currently available in Acrobat Standard DC (monthly plan US$22.99) and in Acrobat Pro DC (monthly plan US$24.99).